Description
This kit is designed for the detection or visualization of neurofibrillary tangles and senile plaques, also known as amyloids, in brain tissue sections affected by Alzheimer's disease. Senile plaques manifest as clusters of abnormally distended neuronal processes or neurites arranged radially around their cores. Thioflavin S binding is a common method employed to identify amyloids. Moreover, it is extensively utilized for validating tau oligomers or fibrils generated in vitro for experimental studies.
Kit Components
| | | |
| --- | --- | --- |
| Sku# | Reagent Name | Volume (ml) |
| VB-3035-1 | Pretreatment Solution A | 100 ml |
| VB-3035-2 | Pretreatment Solution B | 100 ml |
| VB-3035-3 | Thioflavin S Staining Solution | 100 ml |
| VB-3035-4 | Differentiation Solution | 100 ml |
Storage 
Store Thioflavin S  Staining Solution at 2-8 °C. The other components can be stored at room temperature.
Protocol
Deparaffinize in xylene (6 minutes) ×2
Rehydrate: Ethanol 100% (2 minutes)×2; Ethanol 95% (2 minutes) ×2; Ethanol 70% (2 minutes) ×1
Rinse in distilled water (2 minutes) ×
Incubate the sections with PBS for 5 minutes.
Incubate in Pretreatment Solution A for 20 minutes.
Wash with twice PBS for 2 minutes each.
Destain with Pretreatment Solution B for ~1 minute until brown color has been disappeared from sections.
Wash with PBS three times for 2 minutes each.
Incubate the section with Thioflavin S Staining Solution for 8 minute in dark.
Differentiate with Differentiation Solution for 10-15 minutes.
Wash with PBS three times for 5 minutes each.
Rinse the sections with dH2O for 5 minutes.
Mount cover slip onto glass slide with aqueous anti-fade medium and seal edges with nail polish.
Use green filters and detect under fluorescence microscope according to standard protocol.
Control Tissue 
Brain tissue from Alzheimer's disease.
Expected Results:
When thioflavin S is viewed with a fluorescence microscope amyloid in neurofibrillary plaques and in blood vessels will fluoresce intense yellow-white.
References:
Hameetha B. Rajamohamedsait and Einar M. Sigurdsson. Histological Staining of Amyloid and Pre-Amyloid Peptides and Proteins in Mouse Tissue, Methods Mol Biol. Methods Mol Biol. 2012 ; 849: .doi:10.1007/978-1-61779-551-0_28.
Note:
This product is intended for research purposes only. This product is not intended to be used for therapeutic or diagnostic purposes in humans or animals.
Precautions:
Handle with care. Avoid contact with eyes, skin and clothing. Do not ingest. Wear gloves.
More Images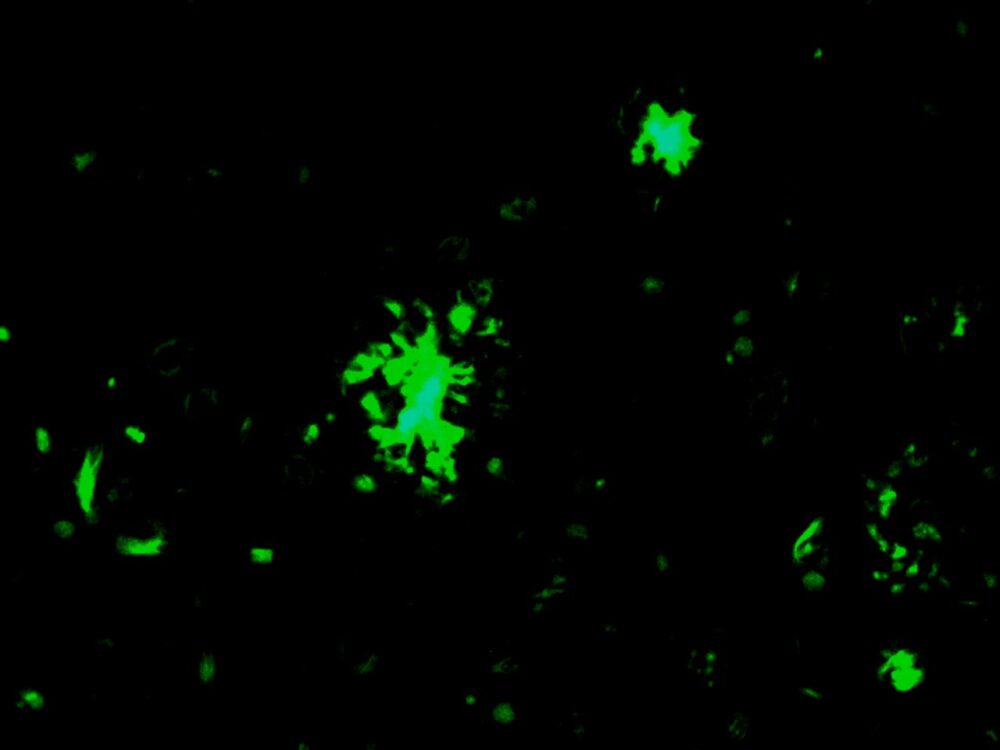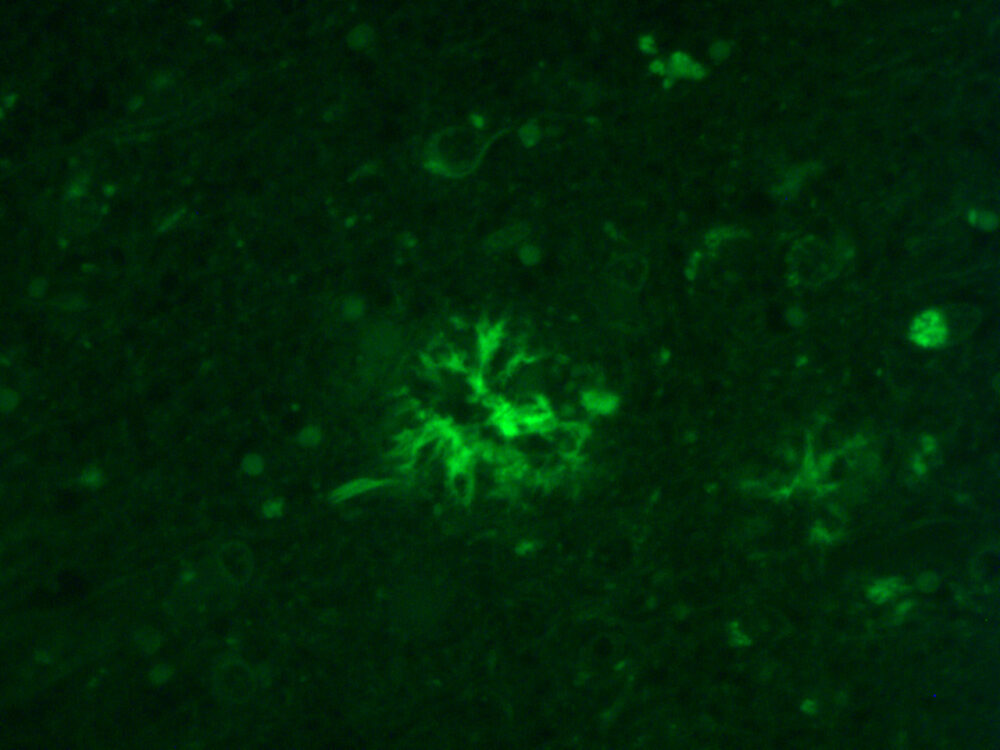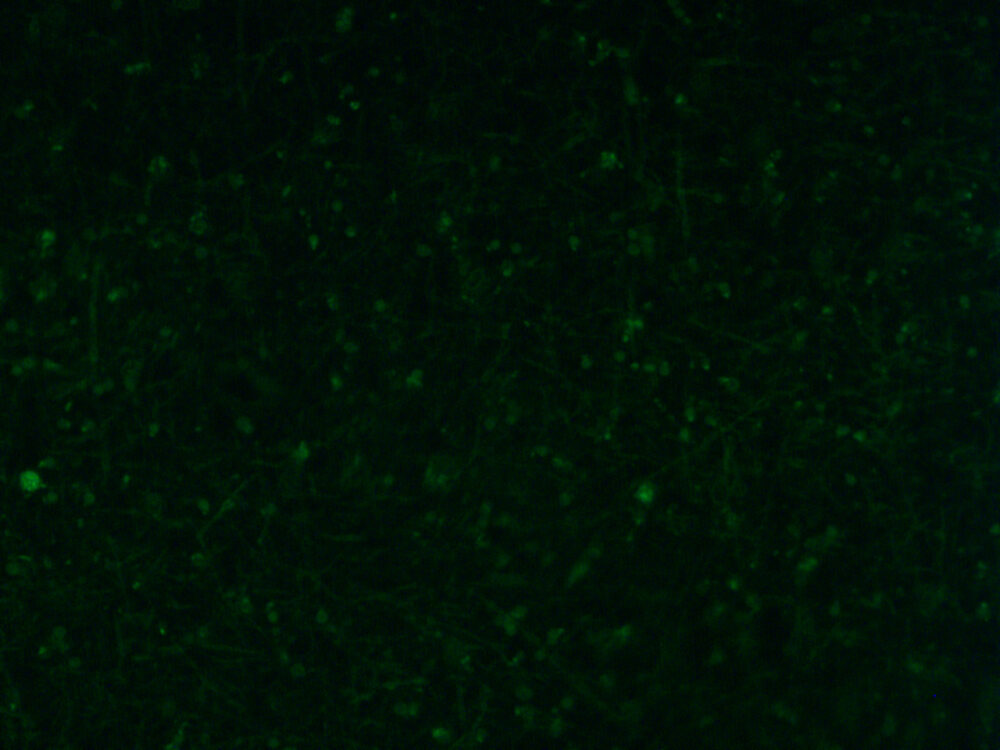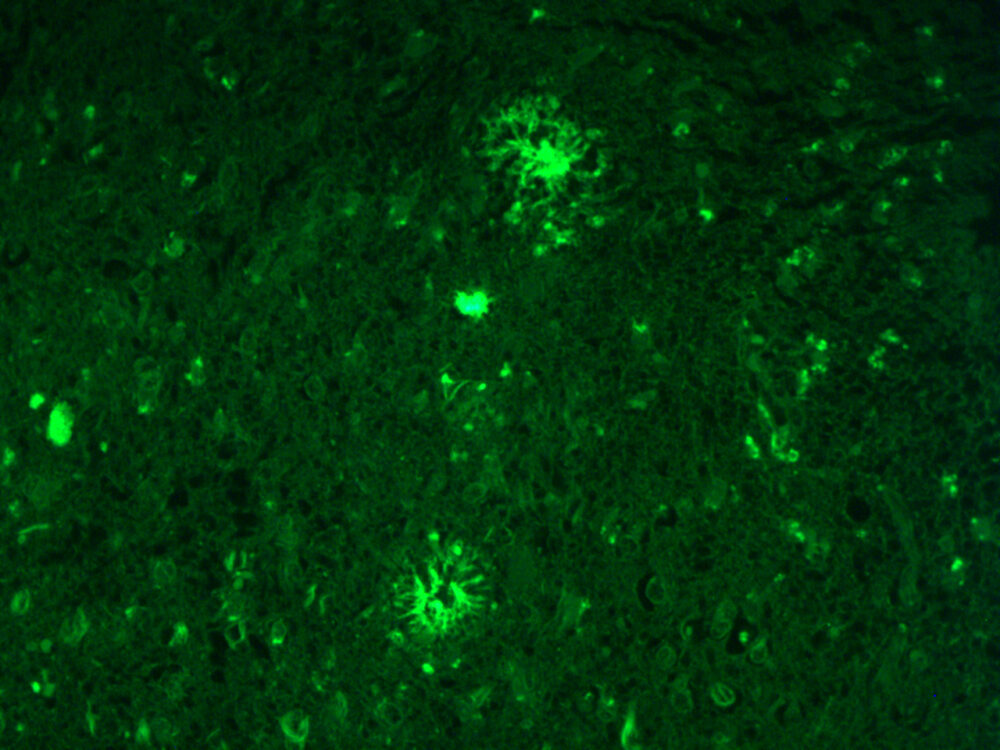 User Manual and Material Safety Data Sheet (MSDS)  (PDF)