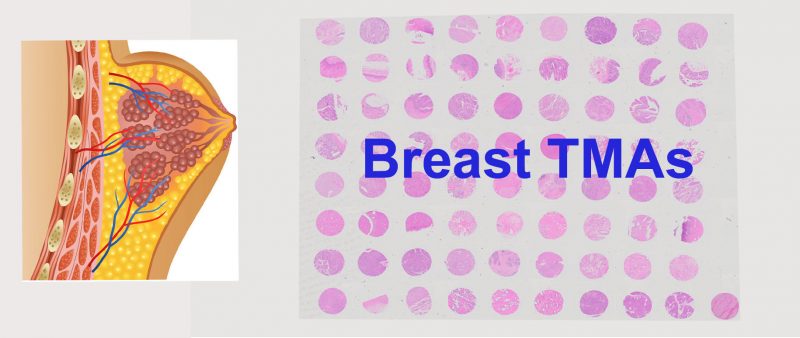 Need more information, quote or place an order? Please email to: info@vitrovivo.com
| | | | | |
| --- | --- | --- | --- | --- |
| SKU# | DESCRIPTION | CASE | CORE | Price ($) |
| BC08212 | Breast cancer and breast tissue array, with metastatic carcinoma, including pathology grade, TNM and clinical stage, 96 cases/100 cores | 96 | 100 | 337.50 |
| BR485 | Breast cancer and normal tissue array, including pathology grade, TNM and clinical stage, 2 serial sections, 48 cases/96 cores | 48 | 96 | 517.50 |
| BR20828 | Breast cancer survey tissue array (22 of 25), including pathology grade, TNM and clinical stage, 104 cases/208 cores | 104 | 208 | 592.50 |
| BR20831 | Breast cancer survey tissue array (25 of 25), including pathology grade, TNM and clinical stage, 104 cases/208 cores | 104 | 208 | 592.50 |
| BR20836 | Breast cancer survey tissue array (5 of 5), including TNM, clinical stage and pathology grade, 208 cases/208 cores | 208 | 208 | 682.50 |
| T089b | Breast cancer tissue array (4x (2×3)array), including TNM, clinical stage and pathology grade, 6 cases/24 cores, replaced by T089c | 6 | 24 | 60.00 |
| BR1510 | Breast cancer tissue array (most of Her-2 subtype), including molecular typing, pathology grade, TNM and clinical stage, with IHC results of ER, PR and Her-2, 50 cases/150 cores | 50 | 150 | 442.50 |
| BR1202b | Breast cancer tissue array (most of triple negative), including pathology grade, TNM and clinical stage, 60 cases/120 cores, replacing BR1202a | 60 | 120 | 442.50 |
| BR1509a | Breast cancer tissue array (most of triple negative), including pathology grade, TNM, clinical stage and IHC marker (ER,PR,Her-2 and Ki-67), 50 cases/150 cores | 50 | 150 | 382.50 |
| BR1201b | Breast cancer tissue array (most of triple negative), including pathology grade, TNM, clinical stage and IHC markers (ER, PR, Her-2) results, 60 cases/120 cores, replacing BR1201a | 60 | 120 | 442.50 |
| BR901 | Breast cancer tissue array (pathology grade 1-3), including TNM and clinical stage data, 45 cases/90 cores | 45 | 90 | 337.50 |
| BR082a | Breast cancer tissue array with Her-2 IHC (0-3+) control, including TNM and pathology grade, Her-2 status, 4 cases/8 cores, replaced by BR082b | 4 | 8 | 97.50 |
| BR1321 | Breast cancer tissue array with lymph node positive and negative, with cancer adjacent tissue as control, including TNM, clinical stage and pathology grade, 120 cases/ 132 cores | 120 | 132 | 592.50 |
| BR251a | Breast cancer tissue array with matched cancer adjacent breast tissue, including pathology grade, TNM and clinical stage, 6 cases/24 cores, replacing BR251 | 6 | 24 | 60.00 |
| BR251c | Breast cancer tissue array with matched cancer adjacent breast tissue, including pathology grade, TNM and clinical stage, 6 cases/24 cores, replacing BR251b | 6 | 24 | 60.00 |
| BRC051 | Breast cancer tissue array with normal breast tissue, including pathology grade, TNM, clinical stage and Her-2 results, 5 cases/5 cores | 5 | 5 | 52.50 |
| BR248a | Breast cancer tissue array with normal tissue as control, including TNM and pathology grade, 24 cases/ 24 cores, replacing BR248 | 24 | 24 | 135.00 |
| BR483b | Breast cancer tissue array with normal tissue as control, including TNM, clinical stage and pathology grade, 48 cases/ 48 cores, replacing BR483 | 48 | 48 | 277.50 |
| BR483c | Breast cancer tissue array with normal tissue as control, including TNM, clinical stage and pathology grade, 48 cases/ 48 cores, replacing BR483b | 48 | 48 | 277.50 |
| BR2088 | Breast cancer tissue array, including pathology grade, TNM and clinical stage, 104 cases/208 cores | 104 | 208 | 592.50 |
| BR727 | Breast cancer tissue array, including pathology grade, TNM and clinical stage, 24 cases/72 cores | 24 | 72 | 382.50 |
| BR728 | Breast cancer tissue array, including pathology grade, TNM and clinical stage, 24 cases/72 cores, replacing BC08015 | 24 | 72 | 337.50 |
| BR965 | Breast cancer tissue array, including pathology grade, TNM and clinical stage, 48 cases/96 cores, replacing BRC962 | 48 | 96 | 315.00 |
| BR501 | Breast cancer tissue array, including pathology grade, TNM and clinical stage, 50 cases/ 50 cores | 50 | 50 | 337.50 |
| BR1006b | Breast cancer tissue array, including pathology grade, TNM and clinical stage, 50 cases/100 cores, replacing BR1006a | 50 | 100 | 382.50 |
| BR1081 | Breast cancer tissue array, including pathology grade, TNM and clinical stage, 54 cases/108 cores | 54 | 108 | 382.50 |
| BR641 | Breast cancer tissue array, including pathology grade, TNM and clinical stage, 64 cases/ 64 cores | 64 | 64 | 337.50 |
| BR1505f | Breast cancer tissue array, including pathology grade, TNM and clinical stage, 75 cases/150 cores, replacing BR1505e | 75 | 150 | 382.50 |
| BR803b | Breast cancer tissue array, including pathology grade, TNM and clinical stage, 80 cases/80 cores, replaced by BR803c | 80 | 80 | 322.50 |
| FISH | Breast cancer tissue array, including pathology grade, TNM, clinical stage and Her-2 marker, 5 cases/5 cores | 5 | 5 | 67.50 |
| BR2089 | Breast cancer tissue array, including pathology grade, TNM, clinical stage and IHC marker (ER, PR and Her-2), 104 cases/208 cores | 104 | 208 | 592.50 |
| BR805 | Breast cancer tissue array, including TNM and clinical stage, 80 cases/80 cores | 80 | 80 | 382.50 |
| BR807 | Breast cancer tissue array, including TNM and clinical stage, 80 cases/80 cores | 80 | 80 | 337.50 |
| BR246 | Breast cancer tissue array, including TNM, clinical stage and pathology grade, 12 cases/24 cores, replaced by BR246a | 12 | 24 | 82.50 |
| BR484b | Breast cancer tissue array, including TNM, clinical stage and pathology grade, 48 cases/ 48 cores, replacing BR484a | 48 | 48 | 382.50 |
| BR1505c | Breast cancer tissue array, including TNM, clinical stage, pathology grade and IHC markers (ER, PR, Her-2, AR and Ki67) results, 75 cases/150 cores, replaced BR1505b | 75 | 150 | 382.50 |
| FMG08013e | Breast cancer with adjacent normal breast tissue array, including pathology grade, TNM and clinical stage, 72 cases/72 cores, replacing BC08013d | 72 | 72 | 382.50 |
| FMG08013f | Breast cancer with adjacent normal breast tissue array, including pathology grade, TNM and clinical stage, 72 cases/72 cores, replacing FMG08013e | 72 | 72 | 382.50 |
| FBR-245b | Breast cancer with adjacent normal tissue array (2012 WHO classification), including pathology grade, TNM and clinical stage (AJCC 7th edition), 12 cases/24 cores, replacing BR245a | 12 | 24 | 82.50 |
| BRE501 | Breast cancer with breast tissue array (2012 WHO classification), including pathology grade, TNM and clinical stage (AJCC 7th edition), 50 cases/50 cores | 50 | 50 | 202.50 |
| BRE502 | Breast cancer with breast tissue array, including pathology grade, TNM and clinical stage, 31 cases/50 cores | 50 | 50 | 202.50 |
| BR2085c | Breast cancer with breast tissue array, including pathology grade, TNM and clinical stage, 188 cases/208 cores, replacing BR2085b | 188 | 208 | 682.50 |
| FBR-087d | Breast cancer with breast tissue array, including pathology grade, TNM and clinical stage, 6 cases/24 cores, replacing T087c | 6 | 24 | 82.50 |
| T088e | Breast cancer with breast tissue array, including pathology grade, TNM and clinical stage, 6 cases/24 cores, replacing T088d | 6 | 24 | 82.50 |
| BR1504c | Breast cancer with breast tissue array, including pathology grade, TNM and clinical stage, 75 cases/150 cores, replacing BR1504b | 75 | 150 | 382.50 |
| BR251d | Breast cancer with matched breast tissue array, including pathology grade, TNM and clinical stage, 6 cases/24 cores, replacing BR251c | 6 | 24 | 60.00 |
| BR1008a | Breast cancer, lymph node metastatic carcinoma and adjacent normal tissue array, including pathology grade, TNM and clinical stage, 96 cases/100 cores, replacing BR1008 | 100 | 100 | 382.50 |
| BR201 | Breast disease spectrum tissue array, including pathology grade, TNM and clinical stage, 20 cases/20 cores | 20 | 20 | 270.00 |
| BR601a | Breast fibroadenoma tissue array, 30 cases/ 60 cores, replacing BR601 | 30 | 60 | 337.50 |
| BR8010 | Breast fibroadenoma, breast tissue and breast cancer array, including pathology grade, TNM and clinical stage, 71 cases/80 cores | 71 | 80 | 382.50 |
| PM2b-ER | Breast invasive carcinoma tissue array, including pathology grade, TNM and clinical stage, 10 cases/ 10 cores | 10 | 10 | 60.00 |
| PM2A-PR | Breast invasive carcinoma tissue array, including pathology grade, TNM, clinical stage and IHC markers (PR, Ki-67, Her-2) results, 10 cases/10 cores | 10 | 10 | 97.50 |
| BR8018 | Breast invasive ductal carcinoma tissue array, including TNM and pathology grade, 80 cases/80 cores, replacing BR808, BC08014 | 80 | 80 | 322.50 |
| BR802b | Breast invasive ductal carcinoma with matched or unmatched adjacent normal breast tissue array, including TNM and pathology grade, 47 cases/80 cores, replacing BR802 | 47 | 80 | 322.50 |
| BR401 | Breast mastitis tissue array, 20 cases/40 cores | 20 | 40 | 277.50 |
| BR402 | Breast mastitis tissue array, 20 cases/40 cores | 20 | 40 | 277.50 |
| BRN04 | Breast tissue array, 4 cases/4 cores | 4 | 4 | 142.50 |
| BR20832 | Breast tumor survey tissue array (1 of 5), with adjacent normal tissue, including pathology grade, TNM and clinical stage, 208 cases/208 cores | 208 | 208 | 682.50 |
| BR20825 | Breast tumor survey tissue array (19 of 25), including pathology grade, TNM, clinical stage and IHC markers (ER, PR, Her-2), 104 cases/208 cores | 104 | 208 | 592.50 |
| BR20833 | Breast tumor survey tissue array (2 of 5), with adjacent normal tissue, including pathology grade, TNM and clinical stage, 208 cases/208 cores | 208 | 208 | 682.50 |
| BR20830 | Breast tumor survey tissue array (24 of 25), including pathology grade, TNM and clinical stage, 104 cases/208 cores | 104 | 208 | 592.50 |
| BR20834 | Breast tumor survey tissue array (3 of 5), with adjacent normal tissue, including pathology grade, TNM and clinical stage, 208 cases/208 cores | 208 | 208 | 682.50 |
| BR20835 | Breast tumor survey tissue array (4 of 5), with adjacent normal tissue, including pathology grade, TNM and clinical stage, 208 cases/208 cores | 208 | 208 | 682.50 |
| BR20824 | Breast tumor tissue array (18 of 25), including pathology grade, TNM, clinical stage and IHC markers (ER, PR, Her-2) results,104 cases/208 cores | 104 | 208 | 592.50 |
| HER2c | Her-2 IHC Bio-marker control TMA, with breast invasive ductal carcinoma, including pathology grade, TNM, clinical stage and IHC markers (ER, PR, Her-2 and Ki-67) results, 10 cases/ 10 cores, replacing Her2b | 10 | 10 | 97.50 |
| BR8017 | Middle-advanced stage breast cancer tissue array, with metastasis tissue, including TNM, clinical stage and pathology grade, 80 cases/80 cores | 80 | 80 | 322.50 |
| BR351 | Poorly differentiated breast cancer tissue array, including TNM, clinical stage and pathology grade, 35 cases/35 cores | 35 | 35 | 82.50 |
| BRE1201 | Triple negative breast cancer and normal tissue array, including pathology grade, TNM, clinical stage and IHC markers (ER, PR, Her-2), 120 cases/120 cores | 120 | 120 | 742.50 |
| BRE1121 | Triple negative breast cancer with normal tissue array, including pathology grade, TNM, clinical stage and IHC markers (ER, PR, Her-2), 112 cases/112 cores | 112 | 112 | 697.50 |
| BR1003b | Multiple types breast cancer tissue array, including pathology grade, TNM and clinical stage, 47 cases/101 cores, replacing BR1003a | 47 | 101 | 382.50 |
| BR1003c | Multiple types breast cancer tissue array, including pathology grade, TNM and clinical stage, 47 cases/101 cores, replacing BR1003b | 47 | 101 | 382.50 |
TMA Applications:
Routine histology procedures including Immunohistochemistry (IHC) and In Situ Hybridization (ISH)
Notes:
1) TMA slides were sectioned and stored at 4°C and may not be fresh cut, but still suitable for IHC. Please request fresh cut if experiment involves phospho-specific antibodies, RNA studies, FISH or ISH, etc. A minimum of 3 slides per TMA must be purchased to cover the cost of trimming for fresh sectioning.
2. Most TMA slides were not coated with an extra layer of paraffin (tissue cores can be easily seen on the glass). To prevent tissue detachment during antigen retrieval, unbaked slides must be baked for at least 30 to 120 minutes at 60°C. before putting into xylene for de-paraffinization. Baked slides were sent out baked for 2 hours.
TNM Grading
T – Primary tumor
Tx – Primary tumor cannot be assessed
T0 – No evidence of primary tumor
Tis – Carcinoma in situ; intraepithelial or invasion of lamina propria
T1 – Tumor invades submucosa
T2 – Tumor invades muscularis propria
T3 – Tumor invades through muscularis propria into subserosa or into non-peritonealized pericolic or perirectal tissues.
T4 – Tumor directly invades other organs or structures and/or perforate visceral peritoneum
N – Regional lymph nodes
Nx – Regional lymph nodes cannot be assessed
N0 – No regional lymph node metastasis
N1 – Metastasis in 1 to 3 regional lymph nodes
N2 – Metastasis in 4 or more regional lymph nodes
M – Distant metastasis
Mx – Distant metastasis cannot be assessed
M0 – No distant metastasis
M1 – Distant metastasis
Stage of Cancer
Stage 0 means there's no cancer, only abnormal cells with the potential to become cancer. This is also called carcinoma in situ.
Stage I means the cancer is small and only in one area. This is also called early-stage cancer.
Stage II and III mean the cancer is larger and has grown into nearby tissues or lymph nodes.
Stage IV means the cancer has spread to other parts of your body. It's also called advanced or metastatic cancer.